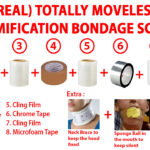 PreOrder – (REAL) TOTALLY MOVELESS MUMIFICATION BONDAGE SCENE (HD)
$25
Description
Scene plan:
Female slaves would perform the mummification scene in a swimsuit.
First Session:
This female slave will be wrapped using Cling Film plastic and then wrapped using clear duct tape. The neck will be fitted with a neck support and before the head is wrapped, the girl's mouth will be filled with a sponge so that it is difficult for the girl to make a sound.
Second Session:
This girl's body will then be wrapped again with Film Cling Plastic and then wrapped again using cardboard duct tape so that the entire body of this girl will turn brown.
Third Session:
This girl's body, which is already helpless, will be rewrapped using plastic cling film and wrapped again using Chrome duct tape on her whole body until her body turns into an iron statue.
Fourth Session:
This girl's body, which is getting stiffer, will be made completely immobile by rewrapping it with cling film and wrapped in strong microfoam duct tape so that the girl's body looks white and stiff.
Fifth session:
In this session, this helpless slave girl will be mocked by being lifted, lying down, standing up, being crushed, hugging her to play with her breath.
Additional session:
This session was conducted only when the slave girl was willing and agreed. In this session, this girl's body would again be wrapped in a strong surge of green electricity so that it would render this girl's body completely stiff and helpless. At the close of this session, this girl's head will be covered with a Swim Cap so that she cannot breathe for 1 minute or more.
The advantage of Pre Order is that the Buyer will get 2 Full HD 1920×1080 Resolution Videos from 2 different camera angles.
If there is a cancellation of the implementation, the buyer has the right to buy another video for twice the price of this video.